GlobalLink® Content Director
GlobalLink Content Director allows users to automatically extract content from databases, file systems, and content management systems.
Content Director automates content extraction and re-integration using customizable workflows to meet your business needs, and the tool's change detection technology eliminates the project management burdens of working with highly dynamic content. In addition, Content Director removes any IT dependencies normally associated with exporting content for translation from complex repositories and back-end systems, allowing for greater internal efficiencies and faster turnaround times.
---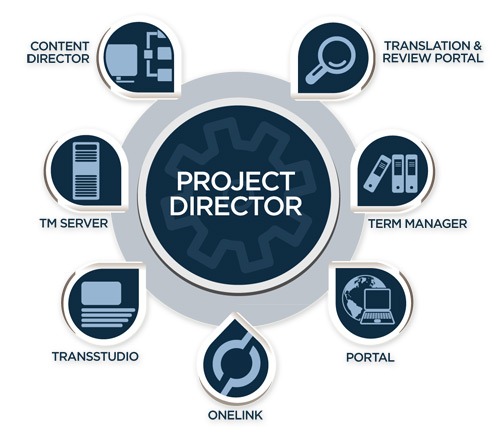 Key Advantages of Content Director
Process Automation – Extract and submit content into a translation workflow with no manual effort required; import translated content into designated locations automatically.
Custom Workflows – Define customizable workflows to automatically, alert, approve, and submit content for localization.
Centralized Tracking – Monitor project status in real time via an integrated dashboard.
Seamless Integration – Easily connect to databases, file systems, or Content Management Systems.
Scalability – Can be used as a standalone application or integrated into the full GlobalLink Project Director architecture to provide a complete end-to-end solution.