Special Report: The Total Economic Impact of the GlobalLink Localization Suite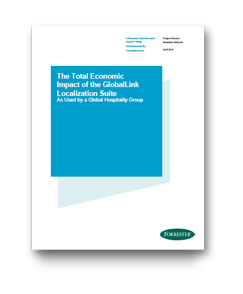 The Internet population in every country in the world is set to increase over the next five years, with emerging markets representing a growing percentage of the global total. Consequently, companies are increasingly looking to international markets to find new revenue opportunities. However, building and operating successful international websites can quickly become a complex and costly endeavor. This is an area where technology such as localization suites can help limit the complexity and keep costs under control.
Translations.com commissioned Forrester Consulting to conduct a Total Economic Impact™ (TEI) study and examine the potential return on investment (ROI) enterprises may realize by deploying the GlobalLink Localization Suite. The purpose of this study is to provide readers with a framework to evaluate the potential financial impact of the GlobalLink Localization Suite on their organizations.
The full study outlines the details associated with a Seven-Year Risk-Adjusted ROI of $7.14 million related to the deployment of Translations.com's GlobalLink Localization Suite.